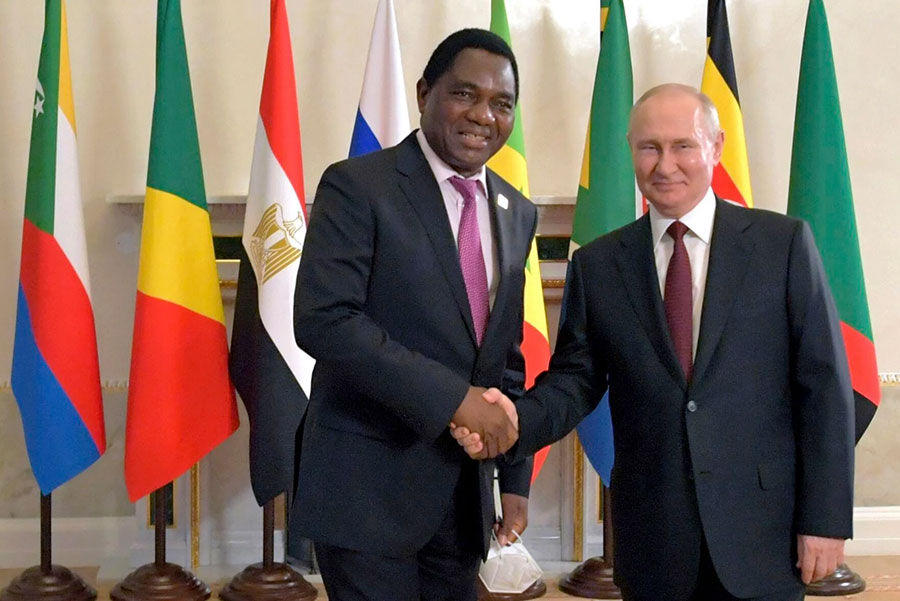 President Hakainde Hichilema met the Presidents of Russia and Ukraine to gain firsthand insight into the ongoing conflict between the two nations.
According to a statement issued by the Ministry of Foreign Affairs and International Cooperation, President Hichilema on 14th June, 2023, embarked on an official visit to Ukraine and the Russian Federation. 
During the visit, President Hichilema met with President Volodymyr Zelensky in Kyiv on June 16, and later met President Vladimir Putin in St. Petersburg the following day.
These meetings were part of the African Peace Initiative focused on addressing the situation between Russia and Ukraine.
President Hichilema was joined by six other African Heads of State and Government from Comoros, Congo Brazzaville, Egypt, Senegal, South Africa and Uganda.
The African Peace Initiative draws upon Africa's successful track record of resolving conflicts through dialogue and peace-building, with the African leaders aiming to encourage open dialogue and negotiations between Russia and Ukraine.
The President's mission marks a significant milestone, as it was the first time African leaders have ventured to the European Continent with the aim of advocating for a peaceful resolution to a conflict.
President Hichilema has time and again called for peace in the world. Instability in any part of the world affects stability everywhere and there is therefore an urgent call for an immediate cessation of hostilities in Russia and Ukraine.
The war, which began in February 2022, has had detrimental effects on other parts of the world.
President Hichilema and the other African Heads of State and Government implored Russia and Ukraine to engage in negotiations and bring an end to the war.